Description
E5620 2.4 Processor
8GB RAM
2×300 HDD
2PSU
The Dell PowerEdge™ R410 is a powerful two-socket 1U server that is ideal for compute-intense applications in space-constrained data centres or high performance computing cluster (HPCC) environments.
Purposeful, customer-inspired design
Advanced processing power, memory and I/O (input/output)
Simplified systems management
Purposeful, Customer Inspired Design
The Dell™ PowerEdge™ R410 takes advantage of Dell's outstanding system commonality and reliability. Quick release rack latching and purposeful placement of interface ports enable easy installation. Robust, metal hard drive carriers and an all steel control arm are designed to increase structural integrity.
The Dell PowerEdge R410 is designed with an optimum chassis depth of 61 cm (24″) for space-constrained data centres and for ease of deployment.
The purposeful design of the Dell PowerEdge R410 provides channeled internal cabling for efficient airflow and easy maintenance. An LCD screen positioned by the front of the bezel provides aisle level access to monitor and maintain.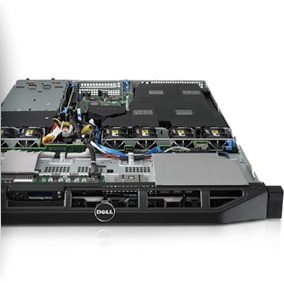 Advanced Processing Power, Memory and I/O
The Dell PowerEdge R410 offers the advanced performance of Intel® Xeon® processors as well as the availability of up to four four 3.5″ (9 cm) (or optional 2.5″ (6 cm)) hard drives.
New DDR3 memory offers higher bandwidth and lower power consumption than previous FBD or DDR2 technologies. Increased memory slots allows you to use smaller, less expensive DIMMs to meet computing needs and balance cost.
A True x16, Gen2 PCIe slot enhances the I/O of this compact, quite and flexible rack server.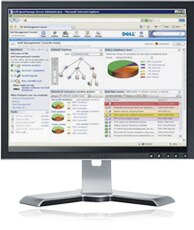 Simplified Systems Management
The new generation of the Dell OpenManage™ suite of tools offers efficient operations and standards-based commands to integrate with existing systems for effective control.
OpenManage reduces tasks from multiple steps to a single step and lays the framework for automated operations. Features include a single console interface with the ability to plug in technology from other partners for effective software and systems management.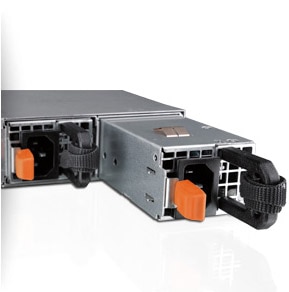 Designed for Increased Energy Efficiency and Management
The Dell™ PowerEdge™ R410 features Energy Smart™ technologies that reduce power consumption while increasing performance capacity.
The Dell PowerEdge R410 includes efficient power supply units right-sized for system requirements, innovative system-level design efficiency, policy-driven power and thermal management and highly efficient, standards-based Energy Smart components. All of these elements are designed to increase energy efficiency across our latest core data centre servers while delivering the performance your business requires.